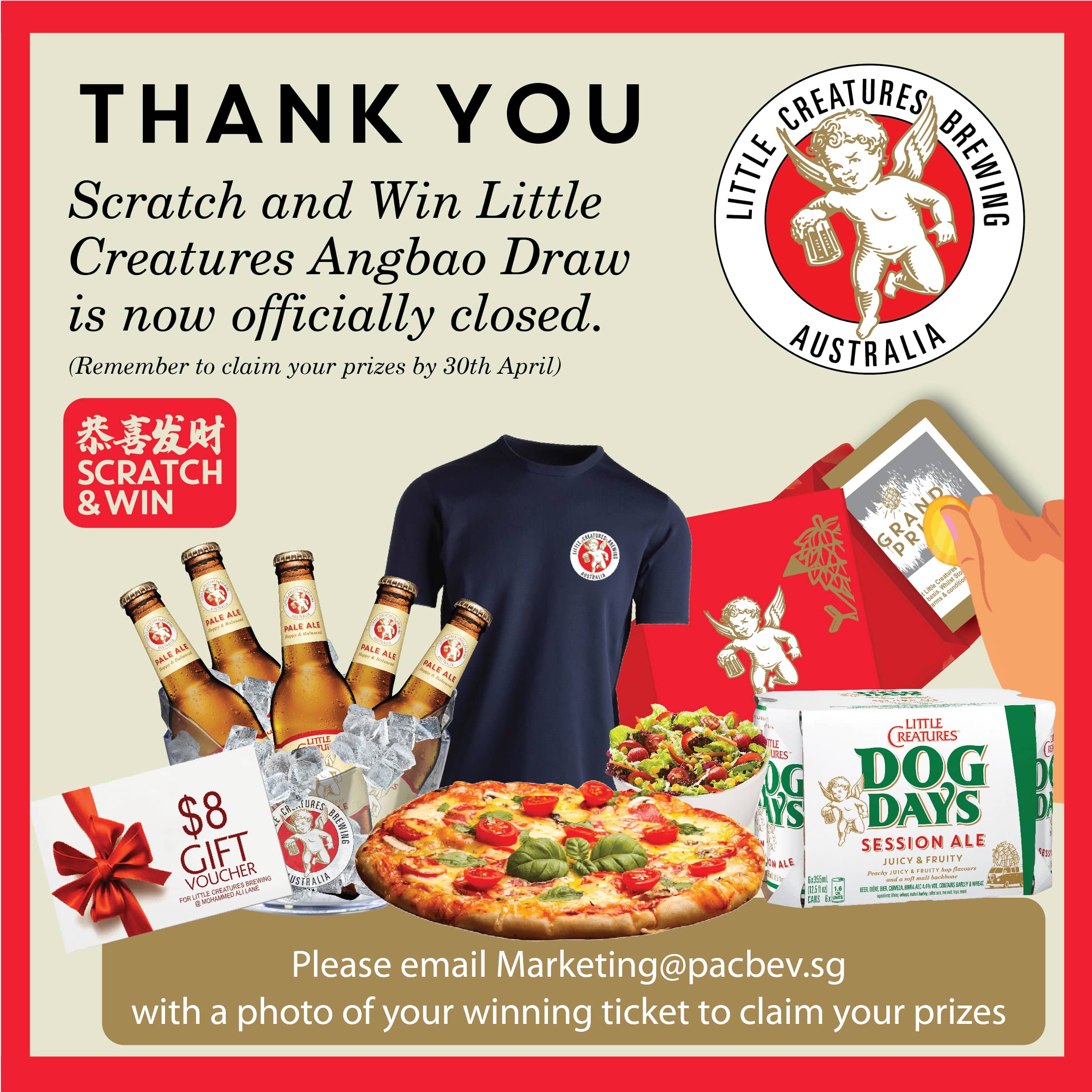 Little Creatures Scratch and Win 2021
Last chance to collect your prizes by 30th April  , email a photo of your winning ticket at marketing@pacbev.sg to claim your prizes. (Redeem by 30th April)
Terms and Conditions
This Scratch and Win card ("Scratch Card") promotion is organised by Little Creatures ("LC") and shall be valid while stock lasts.
By participating in the Scratch Card, participants agree to be bound by and to comply with these terms and conditions and any amendments, additions, replacements, variations and modifications by LC ("Amendments"), which shall be final and binding. Any Amendments will be posted on this webpage: https://pacbev.sg/2021/01/01/lc-scratchandwin-jan-2021/
Employees of LC and it's distributor ("Pacific Beverages Pte Ltd") and their immediate family members (including spouses, children, parents and siblings) are not eligible to participate in the Scratch Card.
LC reserves the right, at any time in its sole and absolute discretion, to substitute, withdraw, add to or alter any of the prizes offered without notice to the participants.
Participants must be legal residents of Singapore.
Participants below the age of 18 years must seek parental consent before participating in the Scratch Card.
Personal data submitted shall be used to communicate with the participant for purposes related to the Scratch Card only.
Participants shall not, without the prior written approval of LC, speak to the press or any other media nor give any interviews or comments relating to the Scratch Card.
LC, Pacific Beverages Pte Ltd shall not be liable for any loss (including, without limitation, indirect or consequential loss), damage, personal injury or death in connection with the Scratch Card, or any prize, except any liability that cannot be excluded by law (in which case that liability is limited to the minimum allowable by law). If applicable, all warranty claims with regards to a prize should be directed to the applicable manufacturer. Except to the extent that they may not be excluded by law, no representations, warranties, terms or conditions that are not expressly stated in these terms and conditions apply to this Scratch Card nor in respect of the prizes and all implied warranties are excluded, including but not limited to, the implied warranties of satisfactory quality, merchantability or fitness for a particular purpose of any of the prizes.
Scratch Card Prizes are made up of the following:
GRAND PRIZE  
1 pax Little Creatures Brewing Experience*
To Brew with Greg Brown ( Little Creatures Head Brewer at MAL)
Special Invitation for launch of beer brewed along with friends (max 8 pax).
Receive 50 pints of beer brewed at MAL. To be consumed within 1 week of launch.
Grand prize winner to be able to brew with Greg Brown (Little Creatures Head Brewer at MAL). The Venue will provide meals and beverages during brew day for the lucky winner.
Once brew is done, winner will be invited with friends to the venue to claim 50 pints of beer vouchers for that brew. Voucher validity 1 week from launch.
CONSOLATION PRIZES
8 x 1 Little Creatures Beer

8 x $8 Gift Voucher

8 x 1 Standard Pizza, Burger or Salad

8 x 1 Dessert

8 x 1 Share A Little Bites. *Does not include Platters

8 x 1 Standard Pizza, Burger or Salad with 1 Little Creatures Beer & Dessert

8 x Little Creatures Ice Bucket Beer Set

8 x Little Creatures Tin Tray Beer Set

8 x Little Creatures T-shirt

8 x Little Creatures Bar Blade

8 x Little Creatures 6 pack with 2 x Glassware
All redemption is strictly at Little Creatures Brewing (Mohamed Ali Lane).
 Prizes are not transferable or exchangeable for cash. LC accepts no responsibility for any tax or other liability that may arise from the prize winnings. Prizes are subject to availability and LC has the right to substitute any prize for a comparable prize of equal or greater value to be awarded in lieu, subject to any applicable law.
The vouchers and prizes are not refundable and cannot be replaced if lost, damaged or expired.
LC & Pacific Beverages Pte Ltd reserves the right to change these terms and conditions at any time without prior notice to participants.
Scratch cards indicated "GONG XI FA CAI" means Please try again with your next purchase!
________________
Good Luck!
Pacbev  x Little Creatures Brewing