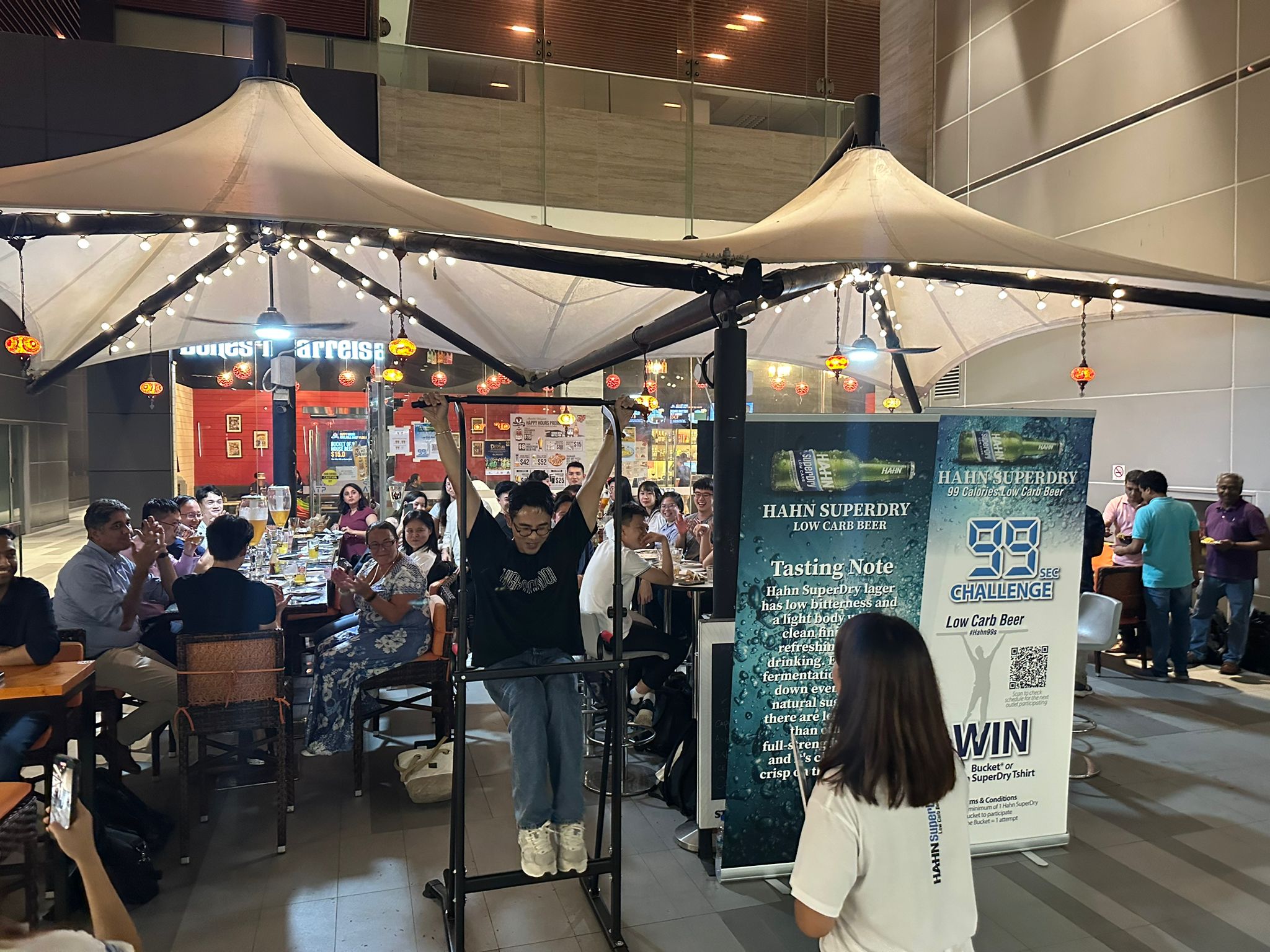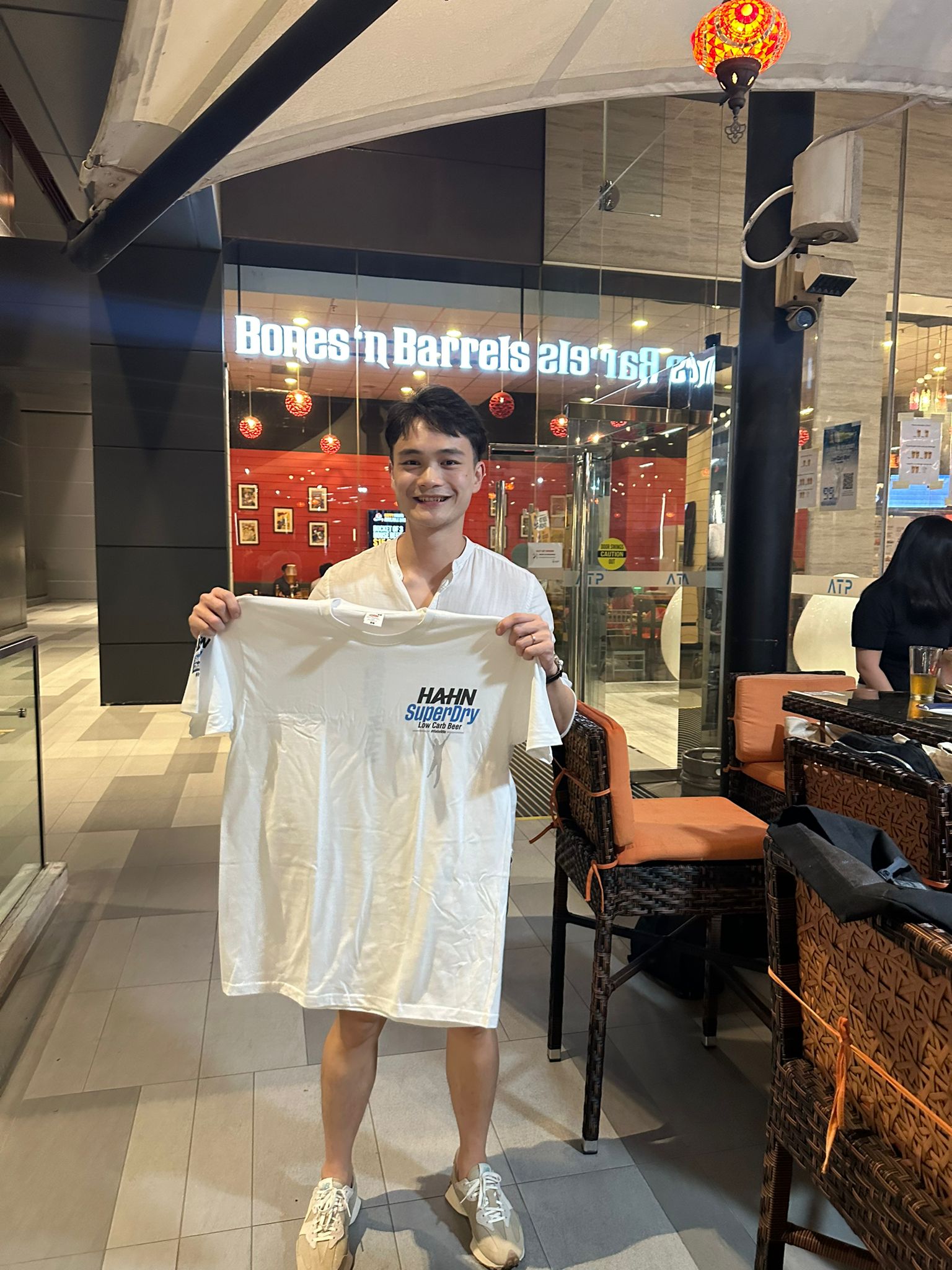 Hahn Superdry 99s CHALLENGE!

FREE HAHN BUCKET OR 3 HAHN FULL PINTS!
We are inviting you to participate in a pull-up bar challenge to hang successfully within 99 secs!
Start Date: 20th April 2023
How to Participate?
Simply buy a bucket of Hahn Superdry to Participate, each purchase entitles you 1 attempt.
How to Win?
Simply hang on the pull-up bar for 99sec to win yourself a FREE Hahn Superdry bucket AND a Limited Edition Hahn Superdry T-Shirt.  
________________________________
Participating Outlets 
(This list will be updated every week, so stay tune!)
Address: 2 Kallang Avenue CT Hub #01-K2 (Outside Unit #01-01) S339407
Telephone: – 
Website: –
Date: 28th April 2023
Time: 5pm – 9pm
Address: 456 Alexandra Rd, #01-04/06 Fragrance Empire Building, Singapore S119962
Telephone: +65 62540430
Website: click here
Date:  4th May  2023
Time: 7pm – 11pm
Bones 'n Barrels Alexandra
Address: 438 B Alexandra Road, 01-01 Alexandra Technopark, Block B, S119968
Telephone: +65 97935313
Website: click here
Date: 5th May  2023 & 10th May 2023
Time: 6pm – 10pm
Address: 11 Unity Street, Robertson Walk, #01-10 11, 237995
Telephone: +65 88168301
Website: click here
Date: 12th May  2023
Time: 6pm – 10pm
Address: 28 Beatty Rd, Singapore 209951
Telephone: +65 62917275
Website: click here
Date: 18th May  2023
Time: 7pm – 11pm
Address: 1 Marne Road, #01-07 The Citron, S208380
Telephone: +65 96150416
Website: –
Date: 19th May  2023
Time: 5pm – 9pm
Address: 56 Sembawang Road, #01-01/02, Hong Heng Mansions, Singapore S779086
Telephone: +65 62599334
Website: click here
Date: 20th May & 26th May & 3rd June 2023
Time: 6pm – 10pm
Address: 30 Lor Mambong, Singapore 277688
Telephone: +65 67636493
Website: click here
Date: 1st June 2023
Time: 6pm – 10pm
Additional Terms
By participating, Participants agree to the Terms and Conditions applied, including their name and likeness, may be used without restriction in any future publicity material by the Organizer.
The Organizer reserves the right to amend and/or vary any of the terms and conditions at any time at its sole discretions without prior notice.
All decisions made by the Organizer under these terms and conditions shall be final and no discussion or correspondence will be entertained. In the event of any discrepancies between these terms and conditions and any advertising, promotional, publicity and other materials relating to or in connection with this Promotion, the Terms and Conditions of this Promotion shall prevail.
The Organizer is also not responsible for any error, omission, interruption, deletion, defect, delay, failure in operation or transmission, communications line failure, theft or destruction, unauthorized access to, or alteration of, user or member communications, or any problems or technical malfunction of any telephone network or lines, the website, computer online systems, servers or providers, computer equipment, system, apparatus, software, failure of e-mail or receipt of entry on account of technical problems or traffic congestion on the internet and/or telecommunication services.

The Organizer will not in any event be held responsible for injuries or damages whatsoever for the participant who wish to participate.

A person who is not a party to any of the agreement governed by these Terms and Conditions shall have no rights under the Contracts (Right of Third Parties) Ac (Cap. 53B), or any amendment thereto, to enforce any term of such agreement.

Images may be captured during events organized and hosted by Pacific Beverages Pte Ltd  using film photography, digital photography, video or other medium and may be used to published on our social media platform, websites, brochures, other publicity material (such as internal and external newsletters).
___________
#Hahns99sChallenge
Pacbev  x Hahns SuperDry