Estrella Galicia x Money Heist Lucky Draw Dec 21 – Feb 22
Prizes | Terms & Conditions | Participating outlets
Estrella Galicia x Money Heist 17.12.2021 – 28.02.2022. — CLOSED —
submit your entries here : https://pacbev.sg/estrella-galicia-x-money-heist-lucky-draw-2021/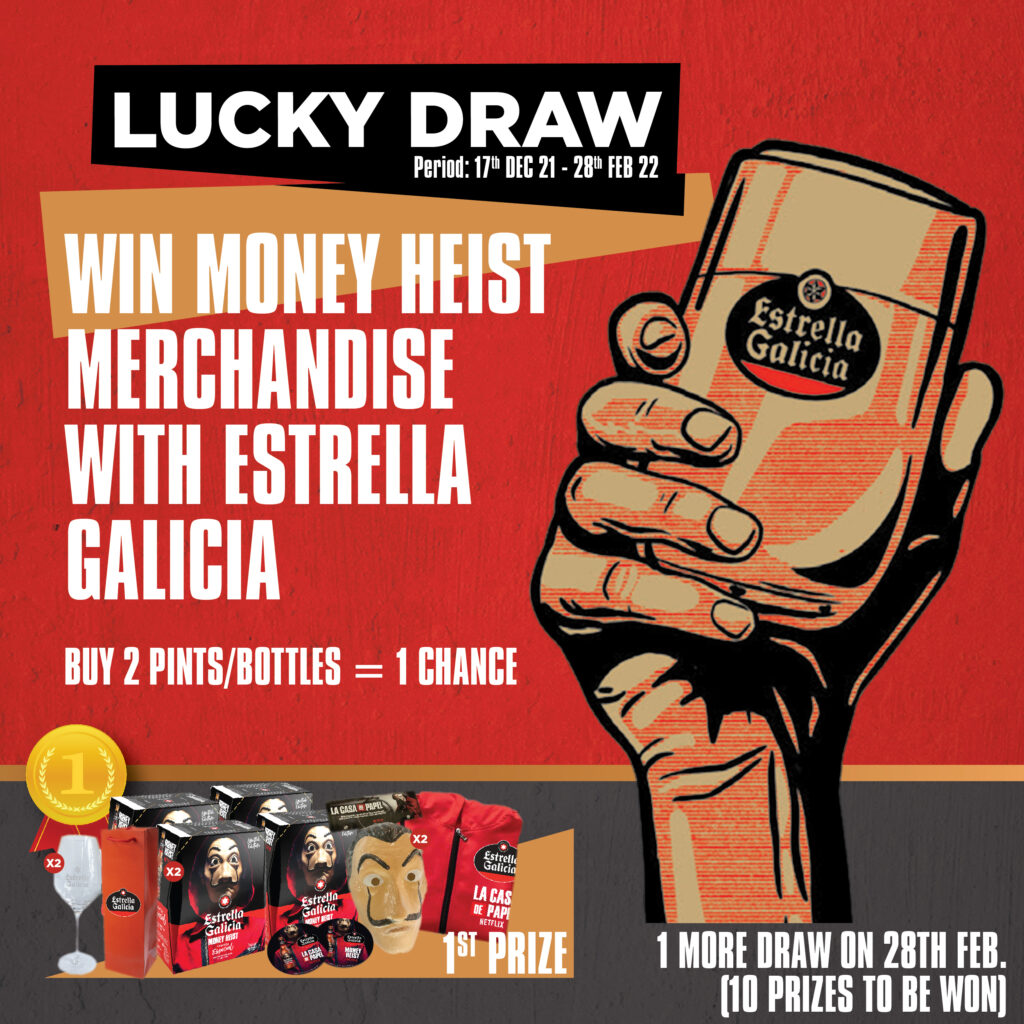 Terms & Conditions
1. This contest is organized by Pacific Beverages Pte Ltd and will run from 17th Dec 21 – 28th Feb 22.
Any transaction made outside Singapore will not earn chances towards any draw.
Any digital receipt(s) uploaded after 28th Feb 2021, 2359hrs are not valid orders and will not qualify for the contest.
2. Only valid orders will count towards this contest. A valid order must:
a. Buy 2 pints / 2 bottles of Estrella Galicia (EG) sold in Participating outlets only; and
b. not be cancelled or refunded (in part or in full). Should there be any cancellation of orders, users will be disqualified from the contest.
c.   Participants shall be entitled to one (1) lucky draw chance with any purchase of a min. 2 pints / 2 bottles Estrella Galicia in a receipt from any participating outlets distributed by Pacific Beverages.
Repeat purchase within a receipt with the above requirements entitles you to another lucky draw chance. (Example 6 pints = 3 chances ) / 2 bottles = 1 chance.
Don't worry, Receipt/Screenshot with unique number will be verified for the chances at our end.
________________________________
Winners & Lucky Draw  10 winners will be selected (EACH DRAW),
Each winner will receive ONE of  the following (10 prizes)
1st Prize : 2 sets of EG X Money Heist Costumes + Masks , 2 cartons of EG x Money Heist (48 x 330ml bottles), 1 coasters set, 2pc EG Glasswares
2nd Prize: 1 set of EG X Money Heist Costume + Mask , 1 carton of EG x Money Heist (24 x 330ml bottles), 1 coasters set, 2pc EG Glasswares
3rd Prize: 1 carton of  EG x Money Heist (24 x 330ml bottles), 1 coasters set,  2pc EG Glasswares
4-10th Consultation Prize : 1 pack of  EG x Money Heist (6 x 330ml bottles), 1 coasters set,  2pc EG Glasswares
Each Winner is entitled to one (1) prize only.
Winners will be announced on first week of February 2022 & first week of March 2022 at Pacbev's social media page Facebook & Instagram
Lucky Draw will be conducted digitally at Pacific Beverages Pte Ltd.
The Organizer reserves the right to substitute any winning prize with a prize of similar value, with or without notice.
The Prizes are non-refundable, non-transferable and non-exchangeable for cash credit or any other items.
Prize Redemption and Period
i)  

 

The Organizer will notify the Winners via call to verify name as per NRIC as well as email address.
ii) Winners will be required to send us via email with your mailing address, for us to courier the prize over.
iii) The Organizer shall reserve the right to select an alternative winner at its sole discretion at any time.
iv)

 

The Organizer reserves the right to reject any winner who is unable to produce the correct details as above.
v)

 

If we are unable to reach the winners on or before 4th Feb 2022, 2359 hours & 4th Mar 2022, 2359hrs the Prizes will be forfeited.
______________________________________________
Let's Congratulate our first 10 Prize (JAN WINNERS)!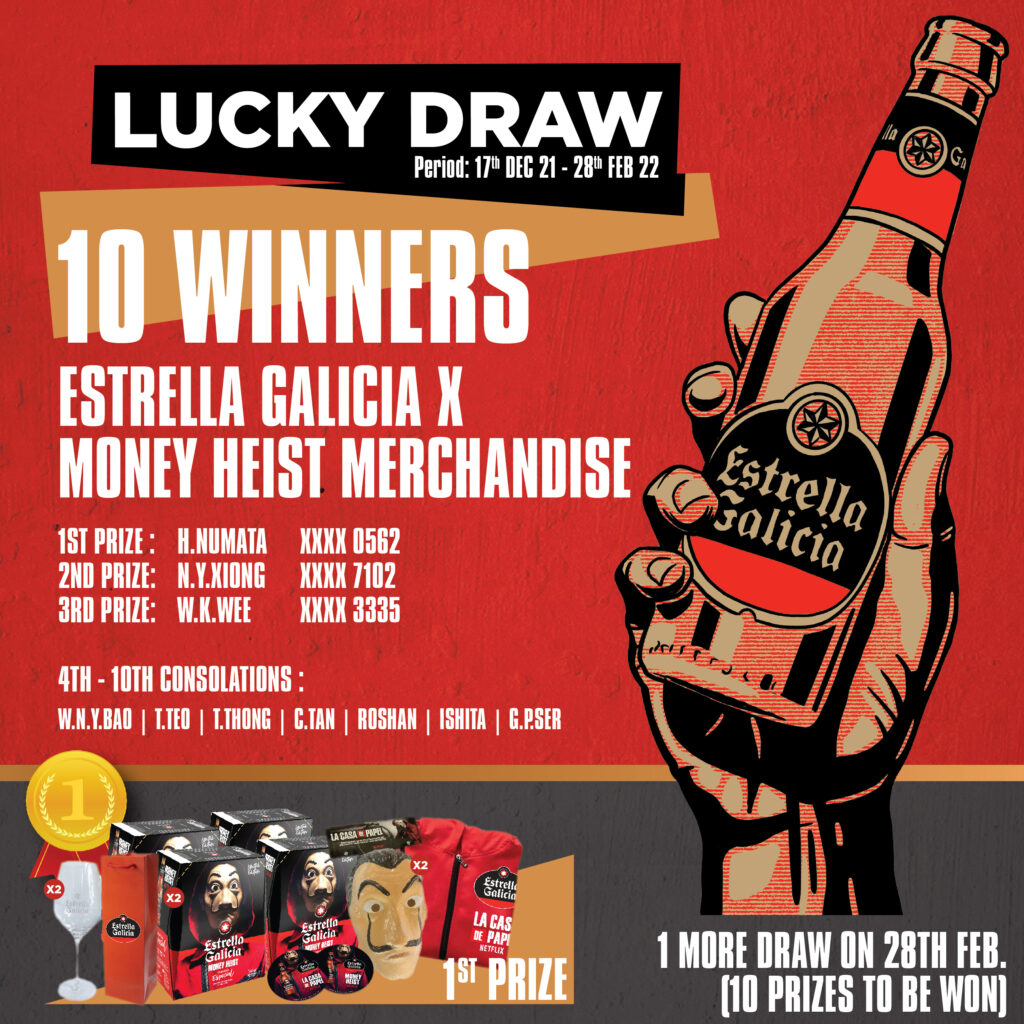 Privacy Policy
By participating, Participant explicitly consents that the Organizer shall store the necessary personal data of the Participants. The Participant is free to revoke his or her consent to the storage of data by sending an email to the Organizer as stated below and by doing so, the Participant withdraws his or her participation from this Promotion. The Organizer will use its best endeavors to keep all personal data stored for this Promotion strictly confidential.
By submitting your entry for the Promotion, you agree that we may collect, use and disclose your personal data, as provided in this entry form, for the purposes of administering the lucky draw in accordance with the Personal Data Protection Act 2012.
Additional Terms
By participating, Participants agree to the Terms and Conditions applied, including their name and likeness, may be used without restriction in any future publicity material by the Organizer.
The Organizer is also not responsible for any error, omission, interruption, deletion, defect, delay, failure in operation or transmission, communications line failure, theft or destruction, unauthorized access to, or alteration of, user or member communications, or any problems or technical malfunction of any telephone network or lines, the website, computer online systems, servers or providers, computer equipment, system, apparatus, software, failure of e-mail or receipt of entry on account of technical problems or traffic congestion on the internet and/or telecommunication services.
The Organizer reserves the right to amend and/or vary any of the terms and conditions at any time at its sole discretions without prior notice.
All decisions made by the Organizer under these terms and conditions shall be final and no discussion or correspondence will be entertained. In the event of any discrepancies between these terms and conditions and any advertising, promotional, publicity and other materials relating to or in connection with this Promotion, the Terms and Conditions of this Promotion shall prevail.
A person who is not a party to any of the agreement governed by these Terms and Conditions shall have no rights under the Contracts (Right of Third Parties) Ac (Cap. 53B), or any amendment thereto, to enforce any term of such agreement.
You can find the list of Estrella Galicia x Money Heist participating outlets here..

Participating Outlets
Pura Brasa Singapore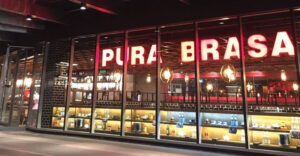 5 Wallich St, #01-16, Singapore 078883
T: +65 6386 9678
Mooloolabar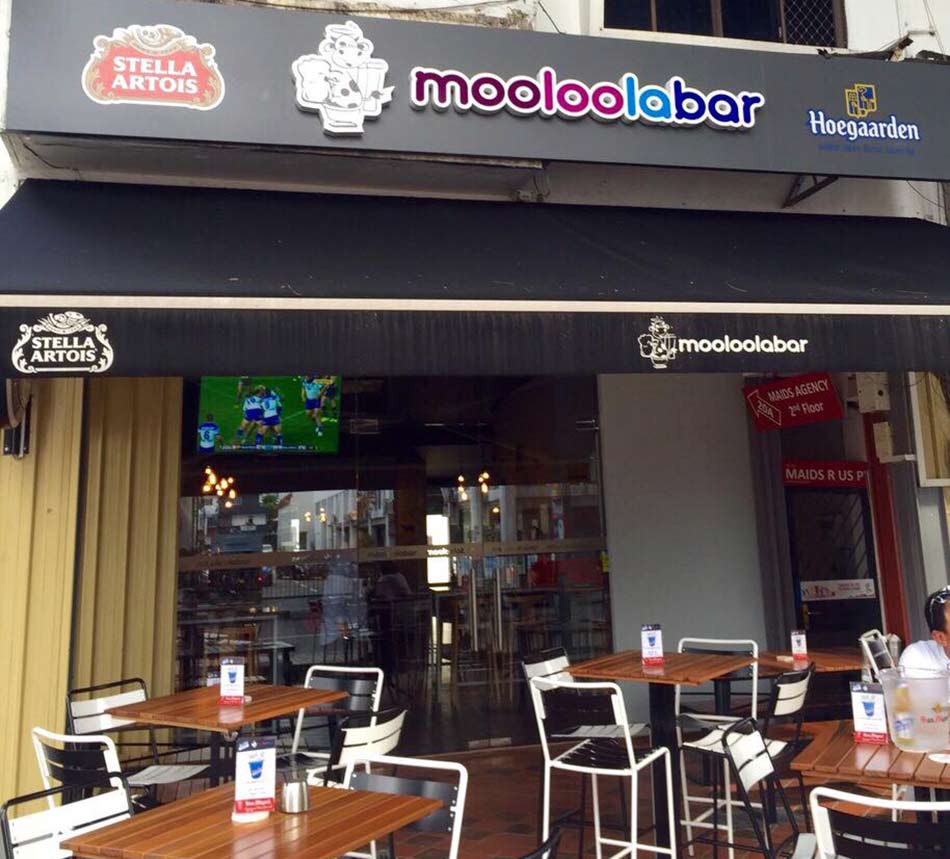 20 E Coast Rd, Singapore 428747
T: +65 6440 0388
Sweetea Caffe
15A &, 15B Trengganu St, Singapore 058469
T: 9139 0003
W: https://www.facebook.com/SweeteaCaffe
Lazy Lizard Sixth Ave
2 Sixth Ave, Singapore 276470
T: 6468 6289
W: https://www.facebook.com/LazyLizardSixthAvenue/
______________
Good Luck!
Pacbev  x Estrella Galicia (Money Heist)