Stella Artois 
Free Frites on us 
We are offering free French Fries in our Stella Artois F&B experience between 16.02.2022 – 17.04.2022.
Whilst Stocks Last!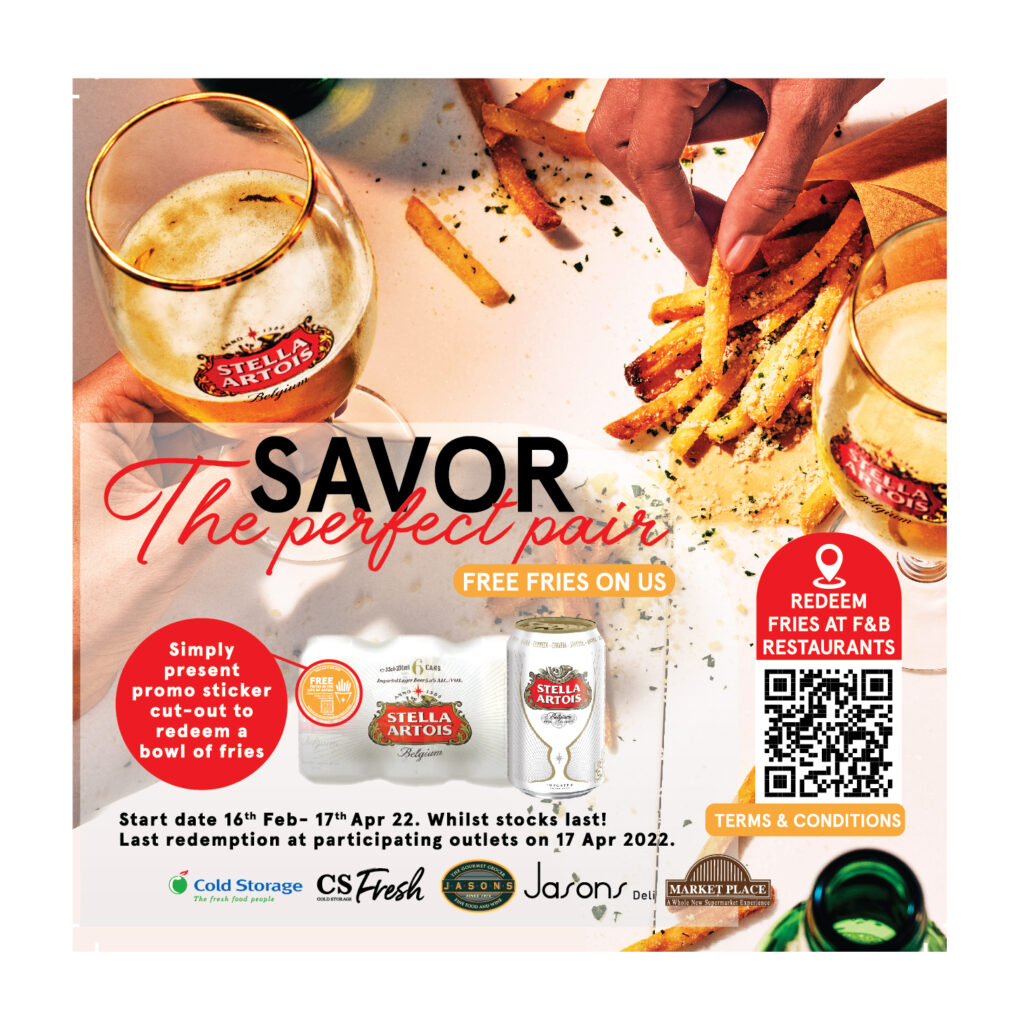 Terms & Conditions
Anyone who are legal drinking age who bought Stella Artois 6s x 330ml cans  with cut-out sticker in all FairPrice & Cold Storage in Singapore.
How to redeem?
To redeem, simply cut out the coupon found on the front of your Stella Artois 6s x 330ml cans and
then present it at the participating outlets and you will receive one free French Fries.
Please note:
– One cut-out coupon 1 x French Fries in all participating outlets, one quantity per person.
– Must be Dine in, Cut-out promotion cannot be used in conjunction with take-away.
– Photocopies/ photos of sticker will not be accepted.
________________________________
You can find the list of participating outlets to redeem your French Fries here..
Participating Outlets
16 Smith St, Singapore 058930
T: 8787 7887
W: https://www.facebook.com/artofallsticks/
275 Thomson Rd, Singapore 307645
T: 6493 2134
W: http://bonesnbarrels.com/novena.html
BONES & BARRELS @ SENTOSA
Sentosa Broadwalk, 098072
T: 6221 0346
BONES & BARRELS @ FAR EAST
14 Scotts Rd, Singapore 228209
T: 6904 8115
W: http://bonesnbarrels.com/fareast.html
25 Lor Mambong, Singapore 277684
T: 6235 0916
W: http://bossbistrobar.com/en/
1 Yuan Ching Rd, #01-04, Superbowl 618640
T: 6908 7647
W: http://bossbistrobar.com/en/
333 Joo Chiat Rd, Singapore 427588
T: 9116 3304
W: https://www.braseiro-sg.com/
5 Duxton Hill, Singapore 089591
T: 6690 7562
340 Joo Chiat Rd, Singapore 427592
W: https://www.burgerfrites.sg/
30 Victoria St, # 02-01 Singapore Chijmes, Singapore 187996
T: 6837 0142
#01-01, 33 Hyderabad Road, HortPark, 119578
T: 6556 1533
W: https://www.canopygardendining.com/location/canopy-hortpark/
1382 Ang Mo Kio Ave 1 Bishan Park 2, 569931
T: 6556 1533
W: https://www.canopygardendining.com/location/canopy-hortpark/
CALI @ ASCOTT RAFFLES PLACE
2 Finlayson Green, Level 2, Singapore 049247
T: 6336 1228
Char-Grill Bar Holland Village



25a Lor Liput, Singapore 277735
T:  6463 4908
W: https://www.facebook.com/cgbhv/
417 River Valley Rd Singapore 248316
T: 6235 0553
31 Boat Quay, Singapore 049820
T: 6532 2131
2 Bayfront Ave, #01 – 85 The Shoppes at Marina Bay Sands, Singapore 018972
T: 6688 7153
54 Sembawang Road #01-01 Hong Heng Mansion, 779085
T: 9159 9026
W: https://www.facebook.com/famoushangout/
FATBOY'S THE BURGER BAR @ THOMSON
187 Upper Thomson Rd, Singapore 574335
T: 6252 8780
10 Tebing Ln, #01-05/06, Singapore 828836
T:  6244 4505
W: https://www.facebook.com/fatposg/menu/
50 Jln Malu-malu, Sembawang Springs Estate, Singapore 769665
T: 6257 4657
W: https://www.facebook.com/flaminggmangos/
391 Guillemard Rd, Singapore 399789
T: 8881 8391
W: https://www.hippies.com.sg/
25 Church St, Capital Square, Singapore 049482
T: 6438 2975
8 Rodyk St, #01-05/06, Singapore 238216
T: 6634 0500
1 West Coast Drive #01-85 & #01-86, NEWest, 128020
T: 6254 7326
W: https://www.facebook.com/LazyLizardNEWest/
Lazy Lizard – Flora Vista
7 Ang Mo Kio Street 66 #01-09 & #01-12, Flora Vista, 567708
T: 6363 9789
W: https://www.facebook.com/LazyLizardFloraVista/menu/
Lazy Lizard – The Promenade
183 Jln Pelikat, 01-20 The Promenade@Pelikat, Singapore 537643
T: 6243 6826
W: https://www.facebook.com/LazylizardThePromenade/
Lazy Lizard – Sixth Avenue
2 Sixth Ave, Singapore 276470
T: 6468 6289
W: https://www.facebook.com/LazyLizardSixthAvenue/
789 Bukit Timah Rd, Singapore 269763
T: 6261 0384
W: https://www.facebook.com/LittleLazyLizard/
749 North Bridge Rd, #01-01, Singapore 198717
T:  8608 1499
W: https://m.facebook.com/labocasg/
380 E Coast Rd, Singapore 428986
T: 6348 6861
W: https://www.facebook.com/MADNEST.sg/
180 Albert St, #01-19B C, Singapore 189971
T: 8133 8494
120 Desker Rd, Singapore 209639
T: 9893 6443
W: https://www.mugshotssg.com/
116 Mackenzie Rd, Singapore 228710
T: 6255 8618
W: https://www.facebook.com/memefusion/
20 E Coast Rd, Singapore 428747
T: 6440 0388
W: https://www.facebook.com/mooloolabar/
207, 01-02 Balestier Rd, 03 BT Center, 329683
T: 6816 0070
OFFSHORE F&B PTE LTD @ SIMON
25 Simon Rd, Singapore 545912
T:  6280 0855
W: https://www.facebook.com/OffshorePub/
#01-455 North Wing, Suntec City3, 3 Temasek Blvd, 038983
T: 6887 0077
W: https://pasarbella.com/category/suntec/
76 Nanyang Drive, Blk N2.1 NTU North Spine Plaza, #01-01, Singapore 637331
T: 6513 5780
46A Prinsep St, Singapore 188676
T: 6333 0689 
W: https://www.place2read.com.sg/
Sabio by the Sea, Tapas Bar & Grill
31 Ocean Way, #01-02, 098375
T: 6690 7568
W: https://www.dhm.com.sg/sabio
10 Bukit Chermin Rd, Singapore 109918
T: 6273 0221
W: https://seascentatkeppelclub.com/
3D River Valley Rd, #01-09 Clarke Quay, 179023
T: 6337 7667
STAGE, Live Music & Restaurant
60 Prinsep St, Singapore 188664
T: 9630 3079
180 Albert St, #01-20 Village Hotel Albert Court, Singapore 189971
T: 6837 3480
6 Marina Blvd, #01-18/19 The Sail at Marina Bay, Singapore 018985
T: 9489 5742
1 Shenton Way, #01-02 One Shenton Way, Singapore 068803
T: 6513 2275
SQUE Rotisserie & Alehouse
6 Eu Tong Sen St, 01-70 The Central, Singapore 059817
T:  6222 1887
11 Sam Leong Rd, #04-01 Trio Building, Singapore 207903
T: 6493 0399
W: https://www.facebook.com/thechamps.sg/
11 Mosque St, Singapore 059491
T:  6260 0767
W: https://www.facebook.com/TDHSG/
VIVA LOCA @ CHANGI CITY POINT
Changi City Point, 5 Changi Business Park Central 1, #01-68/69, 486038
T: 8322 5626
VIVA LOCA @ EAST COAST ROAD
Katong Square, 88 E Coast Rd, #01-15/16, 423371
T: 9106 0971
207 River Valley Road, UE Square #01-57, 238275
T: 6983 3655
30 E Coast Rd, #01-01, Singapore 428751
T: 6246 8366
W: https://www.winemansion.com.sg/
2 Stadium Walk, #01-04, Singapore 397691
T:  9277 7519
2 Venture Dr, #01-45 Vision Exchange, Singapore 608526
T: 6980 5432
W: https://www.ycdiningandbar.info/menus
___________
Savor The Perfect Pair~
Pacbev  x Stella Artois